Micro Medical Micro1 Handheld Spirometer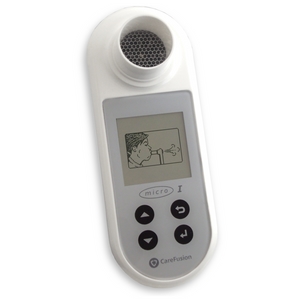 Request a Quote
General
The large backlit graphical display and flat touch sensitive keypad ensure ease of use and functionality are combined in this modern ergonomically designed spirometer. Using the Micro I™ PC configuration software, the Micro I™ can be configured for regional or user specific preferences for language, height units and indices displayed**.
The Micro I™ is the new generation pocket spirometer from CareFusion. Designed specifically for situations where low cost precision spirometry measurements are required, the Micro I™ is extremely lightweight and portable making it suitable for general practices, hospital outreach clinics, bedside testing, occupational health and other situations where remote testing is required.
The Micro I™ contains a rechargeable battery ensuring your device is always ready for use in any busy clinic.
Features
Choice of up to 9 indices can be recorded
Comprehensive range of tests
Lung age
Choice of predicted value
Results can be configured and displayed as % of predicted, standard deviation (SD) or Z-Scores
ATS/ERS quality prompt for each test
Choice of languages
Quick patient test mode
Rechargeable battery
PC configuration for user specific preferences
Configuration option for NLHEP mode
Powered by 2 x AA size NiMH rechargeable cells
Approximately 30 hours battery life
| | |
| --- | --- |
| Measurements | FEV1, FEV6, FVC, FEV1/FEV6, FEV1/FVC, PEF, FEF25-75, FEF75, FEF25 |
| Volume Range | 0.1 to 8L (Gold Standard Turbine 0.1 to 9.99L) |
| Flow Range | 0.2 to 15 L/s |
| Accuracy | ±3% to ATS Recommendations |
| Display | 128 x 128 pixel graphic backlit monochrome LCD |
| Battery life | Approximately 30 hours with a fully charged battery |
| Power Supply | Input: 100-240V AC 50-60Hz 0.5A Output: 5V 1.2A |
| Dimensions | 162cm x 61cm x 30cm |
| Weight | 152g |
| Requirements | An IBM-compatible PC is required, with hardware that meets or exceeds the following minimum requirements. |