Plum 360 Infusion Pump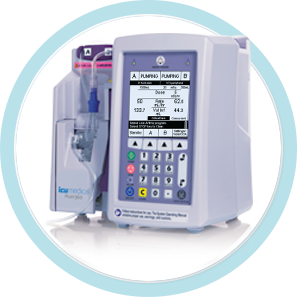 Request a Quote
General
The Plum 360 is the volumetric infusion pump solution to configure customized, tailor-made solutions as individual pumps, or part of a complex infusion system for use within Hospital and Clinic environments.
With today's hectic pace, tight budgets and patient safety concerns, you need an infusion pump that serves both you and your patients, helping to maximize valuable resources and enhance your clinical practice. You'll find the Plum 360 infusion system is unlike any other, with a unique combination of features that empowers you to deliver optimal healthcare – today and tomorrow.
Advantages
Easy-to-learn, easy-to-use intuitive user interface
A secondary line that connects directly to the cassette
Air management that doesn't require disconnecting from the patient
 Performance Data
Automatic rate calculation by calculating volume over time
Dose Rate Mode
Automatic calculation of delivery rate based on the entry of drug concentration in conjunction with the desired dose rate (e.g. mg/kg/min)
Safety Concept
Air Matters — the Plum 360 utilizes the unique PlumSet™ cassette that features air management that doesn't require disconnecting from the patient
Remove air faster — use the pump to automatically remove air through the cassette's secondary administration port without disconnecting the line from the patient
Reduce therapy interruptions — capture 1 mL of air in the cassette's air trap – an industry exclusive feature – before the alarm is activated
Reduce risk of contamination — Help eliminate the potential for contaminants by keeping the patient line connected
Secondary Delivery is of Primary Importance — ICU Medical's Plum infusion systems are unique in the way they connect the secondary line directly to the PlumSet cassette, so the pump can differentiate between primary and secondary infusion lines and deliver each as intended
The Plum 360 pump system includes dedicated and comprehensive range of administration sets for a wide range of therapies and treatments along with accompanying pump accessories.
Please contact MESM for further details how we can support your clinical trial requirements.
| | |
| --- | --- |
| Type of Unit | Volumetric Infusion Pump |
| Dimensions | 20.3 x 20.3 x 15.2 cm (WxHxD) |
| Weight | Approx. 4.5 kg |
| Fluid Ingress Rating | IPX2 |
| Display | 10.5 Monochrome LCD Tilted Screen |
| Keypad | Alphanumeric |
| Delivery Rates | 0.1-999 ml/hr |
| Accuracy of set delivery rate | +/- 5 % over the course of 48hts at programming rate of 1 to 999 ml/hr |
| Occlusion Alarm Range | Distal Pressure Limit 1 to 15 psi (52 to 827 mmHg) |
| Voltage | 220 - 240 V ~, 50 to 60 Hz, 50 VA |
| Battery operating time | Battery Life Approx. 8 hours at 125 mL/hr on a single line |
| Expected Lifetime | 10 Years |