B Braun Infusomat Space Infusion Pump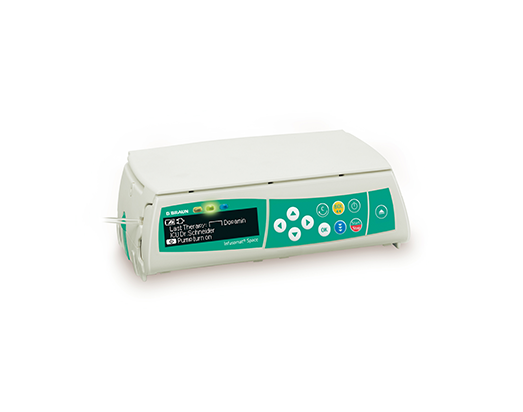 Request a Quote
General
The Infusomat® Space pump is the volumetric infusion pump solution to configure customized, tailor-made solutions as individual pumps, small therapy units, or a complex infusion system for use within Hospital and Clinic environments.
The small, light and intuitive configuration of the pump provides a user-friendly solution to complex therapies, integrating all clinical areas into one system. Leading the way into the future, this system meets all demands of an outstanding safety concept required for both infusion therapy and patient safety during treatment.
Advantages
Easy-to-learn, easy-to-use intuitive user interface
1,500-entry drug library available
Lightweight mobile design allows you to quickly and easily stack up to 24 pumps in a single bedside tower
Performance Data
Automatic rate calculation by calculating volume over time
Dose Rate Mode:
Automatic calculation of delivery rate based on the entry of drug concentration in conjunction with the desired dose rate (e.g.: mg/kg/min)
Safety Concept
Device- and set-based anti-free flow clamp for maximum security against free flow when pump door is opened or infusion line removed
Automatic bolus reduction triggered by occlusion alarm
Additional upstream pressure sensor detects upstream occlusions (e.g.: closed roller clamp)
Data lock on 3 safety levels (parameters and disposables lockable)
LED alarm indicator with clear alarm message in display
The Infusomat® Space pump system includes dedicated and comprehensive range of administration sets for a wide range of therapies and treatments along with accompanying pump accessories.
Please contact MESM for further details how we can support your clinical trial requirements.
| | |
| --- | --- |
| Type of Unit | Volumetric Infusion Pump |
| Dimensions | 214 x 68 x 124 mm (WxHxD) |
| Weight | Approx. 1.4 kg |
| Moisture protection | IP 22, drip protected for horizontal usage |
| Display | Backlit graphic display, ~40° read angle from all sides |
| Keypad | Backlit keys , cell phone like cursor navigation |
| Flow Rates | 0.1-1200 ml/h |
| Accuracy of set delivery rate | << ±0,5 % mechanical accuracy ± 5 % according to IEC/EN 60601-2-24 |
| Operating Temperature | +10° C … + 40° C +50° F …. +105° F |
| Voltage | 11-16 V DC supplied by external Space Power Supply or by SpaceStation |
| Battery operating time | Minimal power consumption of the devices and new battery technology ensure long operating times, e.g. 9.4 hrs. @ 80 ml/h, 8.5 hrs. @ 100 ml/h |
| Lifetime | Min. 10 years under continuous duty conditions |