Nihon Kohden Cardiofax S (1250A)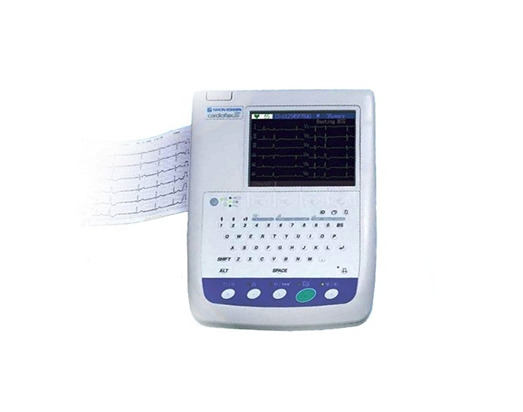 Request a Quote
General
High Performance and Economical
Light Weight and Portable
Easy-to-view Colour LCD: The bright colour backlit LCD lets you review the data more easily.
5.7" screen.
Easy Data Entry and Storage: For identifying patients and easier filing, you can enter the patient name and a numeric ID with the alphanumeric keys.
Space-saving Design: The compact design requiring minimal table surface for use and storage makes it convenient for offices with limited space.
High Level 12 Lead ECG Analysis: ECAPS 12C interpretive analysis program provides simultaneous 12 lead acquisition of up to 24 seconds and analyses approximately 200 findings and 5 judgement categories.
Please contact MESM for country registration.
| | |
| --- | --- |
| ECG Acquisition | |
| Sensitivity | 10 mm/mV ±2% |
| Input impedance | 20 mA |
| Common mode rejection ratio | ≥100 dB |
| Frequency response | 0.05 Hz to 150 Hz (−3 dB) (drift filter: off, high-cut filter: 150 Hz) |
| Signal Processing | |
| Analysis sampling rate | 500 samples/s |
| Acquisition sampling rate | 8000 samples/s |
| AC interference filter | AC interference filter |
| Time constant | ≥ 3.2 s |
| High cut filter | 75,100, 150 Hz |
| | |
| Display | |
| Type | Color LCD (CCFT backlight) |
| Display size | 5.7 inch |
| Resolution | 320 × 240 dots |
| Data Display | 12 lead ECG waveform, patient information, recording settings, operation mode, heart rate, QRS sync mark, CAL mark, error message, electrode detachment, noise ECG waveform: 12 lead (2.88 s/lead) |
| | |
| Recorder | |
| Printing process | Printing process |
| Number of channels | 3, 4, 6 |
| Paper speed | 10, 12.5, 25, 50 mm/s |
| ECG Analysis | |
| Programme name | ECAPS 12C |
| Analysis patient age | 3 years to adult |
| Analysis time | 5s |
| Finding items | approx. 200 |
| Judging items | 5 |
| | |
| Accessories | |
| SD Memory Card | QM-064DE |
| Battery | SB-901D |
| Patient Cable | BA-903D |
| Paper | PA-9000Z |
| Options | Cart-NK-KD010A |
| Dimensions | 210 W × 69 H × 280 D mm (excluding protrusions) |
| Weight | Main unit: approx. 2.0 kg ±10% (without battery and recording paper) |
| | |
| Power Requirements | |
| Power line voltage | 100 to 127V, 220 to 240 V ±10%, 50/60Hz |
| Operating time | Approximately 60 minutes with fully charged new battery |