SunTech CT40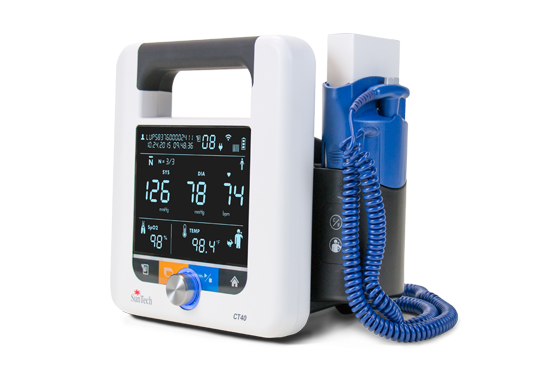 Request a Quote
General
SunTech CT40
Driven by SunTech's market-leading Advantage™ BP technology, the new SunTech CT40 is the ideal, affordable solution for clinical-grade spot-check measurements of blood pressure plus vital signs in hospitals and clinics.
Ambulatory care, long-term care and low-acuity hospital departments can easily implement this versatile, user-friendly vital signs device that delivers SunTech clinical-grade performance, advanced features and digital connectivity.
Unique to the SunTech CT40, its modular design allows clinicians to easily make adaptations to the device while in the field – adding
Thermometry
SpO2
Wi-Fi based 
Other advanced features include the ability to transmit measurement data directly from the device in accordance with HL7 messaging protocols as well as BP Averaging Mode, a key component to accurate blood pressure measurement
 Blood Pressure Cuffs
Across our product line, our patented, motion-tolerant blood pressure monitoring devices provide accurate, reliable data, in both clinical and research applications while our affordable, high-quality cuffs BP are the perfect complement to the world's best blood pressure monitors.
Modular Options
98-0411-02 Covidien Filac® 3000 Thermometry
98-0411-01 Masimo SET® SpO2 (preferred)
98-0411-03 Touchless IR Thermometry ( not available in USA )
98-0411-00 ChipOx Nellcor®-compatible SpO2
Barcode Scanner SUNTECH CT40
Mobile stand SUNTECH CT40
Printer SUNTECH CT40
Wi-Fi SUNTECH CT40
| | |
| --- | --- |
| Pressure Measurement Accuracy | Within 3 mmHg or 2% (Meets or exceeds ANSI/AAMI SP10:1992) |
| Pressure Measurement Range | 0 to 290 mmHg |
| Pulse Rate Measurement Range | 40 to 200 beats per minute |
| Diastolic BP Measurement Range | 40 to 160 mmHg |
| Systolic BP Measurement Range | 60 to 250 mmHg |
| Maximum Operating Cuff Pressure | 290 mmHg |
| Maximum Possible Cuff Inflation Time | Over 10 mmHg for 3 minutes |
| Maximum Possible Cuff Pressure | 330 mmHg |
| Monitor Dimensions | 9 x 4 x 5.5 in (23 x 10 x 14 cm) WxDxH |
| Arm Circumference for Small Cuff | 7 to 10.25 in (18 to 26 cm) |
| Small Cuff Size | 6.75 x 3.5 in (17 x 9 cm) LxW |
| Arm Circumference for Regular Cuff | 10.25 to 13.5 in (26 to 34 cm) |
| Regular Cuff Size | 9 x 4.75 in (23 x 12 cm) LxW |
| Arm Circumference for Large Cuff | 12.5 to 17 in (32 cm to 43 cm) |
| Large Cuff Size | 13 x 6 in (33 x 15.2 cm) LxW |
| Device Lifetime | 10,000 full scale NIBP cycles of 0 to 290 mmHg and back |
| Power | 110/220V AC Adapter (included) |
| Weight | 3.5 lbs (1.56kg) (including power source, 3 cuffs and tubing) |