Vitalograph COPD-6 Bluetooth Respiratory Monitor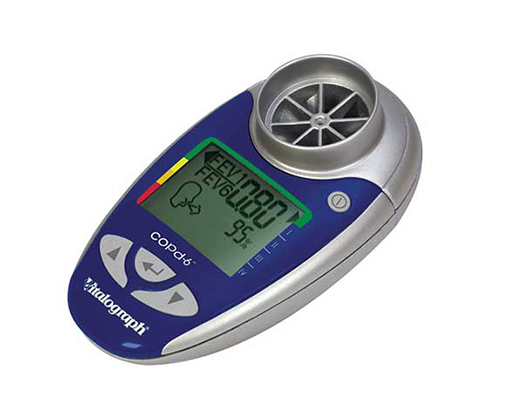 Request a Quote
General
Vitalograph COPD-6 is a simple to use respiratory monitor that measures FEV1, FEV6, and FEV1/FEV6 with predicted values, obstructive index and COPD stage indicator.
This device can be paired with the mobile phone, PDA, PC or Home Hub for Bluetooth®  transmission of test/session data and device ID, to be transmitted on to either the sponsor or web server.
This device can be used for respiratory monitoring in clinical trials, at home, at work, in primary or in secondary care.
Automatically sends data after each blow

Can also send session data

Time and date of each session

Indicates blow quality and number of blows in each session
Transmits:
FEV1, FEV6, and FEV1/FEV6

Predicted values for above

Age, gender and height

Device ID automatically transmitted with the data
| | |
| --- | --- |
| Product | Vitalograph copd-6 Bluetooth |
| Model Number | 4000 |
| Part Number | 40200, 40450, 40350, 40850 |
| Description | Vitalograph copd-6, Vitalograph copd-6 usb, Vitalograph copd-6 bluetooth, Vitalograph copd-6 serial |
| Parameters Displayed | FEV1/FEV6/ratio and % predicted |
| Quality of Blow Indicator | Yes |
| Obstructive Index | Mild, Moderate, Severe (FEV1% predicted) |
| COPD Classification | Normal (not COPD); Stage I, II, III & IV (FEV1% predicted) |
| Lung Age Indicator | Yes |
| Flow Impedance | Better than 0.15 kPa/L/s at 14 L/s |
| Operating Temperature Range | 17 - 37°C |
| Sensor | Stator rotor |
| Accuracy | Better than +/- 3% |
| Range | 0 - 9.99 L BTPS |
| Size | 113 x 63 x 48mm |
| Weight | 55g net |
| Display | Custom Liquid Crystal Display |
| Power | AAA batteries |
| Performance Standards | ISO 26782:2009, ISO 23747:2007, ATS/ERS 2005 |
| Safety Standards | IEC 60601-1:2005 |
| Medical Safety Standard | Medical Devices 93/42/EEC (as amended) |
| Designed and manufactured to | following QA/GMP standards ISO 13485:2003, FDA 21CFR820 |