RTube Breath Condensate Collection Starter Kits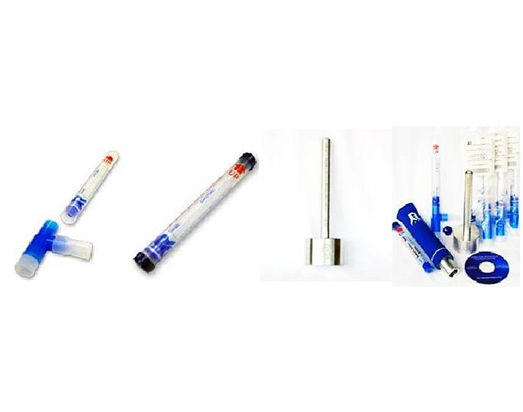 Request a Quote
General
The Rtube breath condensate collection device is designed for ease of use even by the unsupervised patient in the home, workplace, laboratory, hospital, or clinic.
This non-invasive handheld device is fully self-contained and disposable. As the subject breathes normally into the device, the Rtube gathers breath condensate in a transportable/mailable cartridge.
This unique feature allows for easy integration of the Rtube into existing studies and allows large amounts of EBC data to be collected with ease from subjects in the clinic, hospital, home, workplace, school, or any other reasonable environment. The simplicity and environmental flexibility of this collector offers the potential for rapid development of clinical diagnostics utilizing EBC pH and other biomarkers.
Expected consequence of exceeding storage requirement
Light stickiness in the duckbill valve

making the first exhalation attempt difficult

Easily resolved by performing Pre-Use
| | |
| --- | --- |
| Mouthpiece | Polyethylene |
| Tee | Polyethylene |
| Check Valve | Polyethylene housing, Polyisoprene Rubber disk |
| Tube | Copolymer Polypropylene |
| Duckbi | Silicone Rubber (FDA-approved Ingredients) |
| O-Ringll Valve | PTFE (Teflon) |
| Endcaps | Medical-grade Vinyl |
| Label * | Mylar |
| Sleeve * | N/A |
| Insulator * | N/A |
| -Parts annotated with (-) do NOT contact condensate | Performance Specifications |
| Duration of Collection | -7 minutes, Child- 10 minutes |
| Volume of Condensate Collected | -1000 microliters, Child- 700 microliters |
| Collection Temperature | --20C, Child- -20C |
| Flow Resistance | 0.20 cm H2O/liter |
| Temperature | Non-Climate Controlled: 0C to 35C, Climate -15C to 25C |
| Shelf Life from Date of Manufacture | Non-Climate Controlled: 10% to 90%, Climate Controlled: 30 Months |