RTube Breath Condensate Collection Starter Kit (25 Units)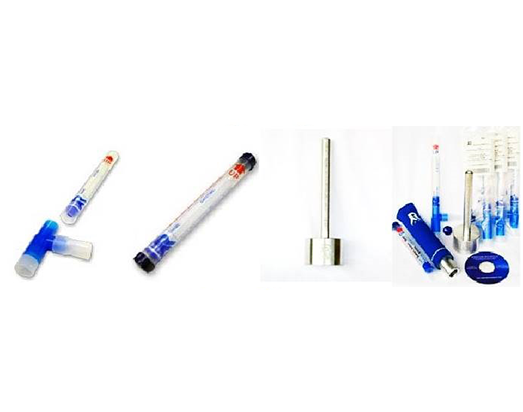 Request a Quote
General
The RTube™ breath condensate collection device is designed for ease of use even by the unsupervised patient in the home, workplace, laboratory, hospital, or clinic. This non-invasive handheld device is fully self-contained and disposable. As the subject breathes normally into the device, the RTube gathers breath condensate in a transportable/mailable cartridge.
This unique feature allows for easy integration of the RTube into existing studies and allows large amounts of EBC data to be collected with ease from subjects in the clinic, hospital, home, workplace, school, or any other reasonable environment. The simplicity and environmental flexibility of this collector offers the potential for rapid development of clinical diagnostics utilizing EBC pH and other biomarkers.
Product Features
Reproducible, reliable results in over 40,000 collections
Sealable condensation tube is easily shipped in the mail for centralized sample analysis
No centrifuge needed! Syringe-style plunger action sweeps even the tiniest drops of condensate from the condensation tube walls into a single fluid pool for easy analysis
Large "Tee" section separates saliva from the exhaled breath and prevents it from entering the condensation tube
Custom duckbill valve/nozzle enhances condensation efficiency and produces high condensate volumes
Disposable design ensures a clean device ready for use at any time. No cleaning!
Single-use design eliminates any opportunity for infectious cross-contamination
Simple handheld device is easy to use by the unsupervised subject at home
The special valve assembly is the key to efficient sample collection and allows unsupervised subjects to easily gather and store contaminant-free samples. Typical condensate fluid yield is 100 microliters/minute for a child and 200 microliters/minute for an adult at normal tidal breathing effort.
The unique one-way valve provides maximal particle impaction on the condensing surface and also acts as a plunger. The ability to pool the sample near the upper end of the tube allows for maximum sample recovery in seconds.
The RTube collection system utilize inert, FDA-approved polypropylene material for minimal water absorption. The blue one-way valve is crafted from FDA-approved silicone rubber. End caps made of medical grade vinyl seal the sample for long-term storage. A label is also provided allowing the researcher/subject to record the name and date of collection. Each RTube is assembled and cleaned to exacting specifications, placed in an individual sealed pouch, and bulk packaged for delivery to you. For your convenience, we offer several Specialty Kits designed to fit the most common needs of our customers. Let us help you select the RTube Specialty Kit that best fits your needs.
Content
EBC Sampling Device: 25
Cooling Sleeve with Insulator: 1
Plunger: 1
Product Technical Information Sheet: 1
Demonstration Video: 1
Lowest cost evaluation kit.  Perfect for pilot studies and investigators new to EBC
| | |
| --- | --- |
| Material Specifications | |
| Mouthpiece | Polyethylene |
| Tee | Polyethylene |
| Check Valve | Polyethylene housing, Polyisoprene Rubber disk |
| Tube | Copolymer Polypropylene |
| Duckbill Valve | Silicone Rubber (FDA-approved Ingredients) |
| O-Ring | PTFE (Teflon) |
| Endcaps | Medical-grade Vinyl |
| Label * | Mylar |
| Sleeve * | Aluminium 6061-T6 |
| Insulator * | Polyester/Cotton Fabric with Polyester Insulation |
| | Note: Parts annotated with (*) do NOT contact condensate |
| Performance Specifications | |
| Duration of Collection | Adult: 7 Minutes Child: 10 Minutes |
| Volume of Condensate Collected | Adult: 1000 microliters Child: 700 microliters |
| Collection Temperature | Adult :-20C Child: -20c |
| Flow Resistance | 0.20 cm H2O/litre |
| R-Tube Storage Requirements | |
| Temperature | Non-Climate Controlled: 0C to 35C Climate Controlled: 15C to 25C |
| Humidity (non-condensing) | Non-Climate Controlled: 10% to 90% Climate Controlled: 20% to 80% |
| Shelf Life from Date of Manufacture | Non-Climate Controlled: 12 Months Climate Controlled: 30 Months |
| Expected consequence of exceeding storage requirement | Light stickiness in the duckbill valve making the first exhalation attempt difficult. Easily resolved by performing. |