T60 Ambulatory Syringe Pump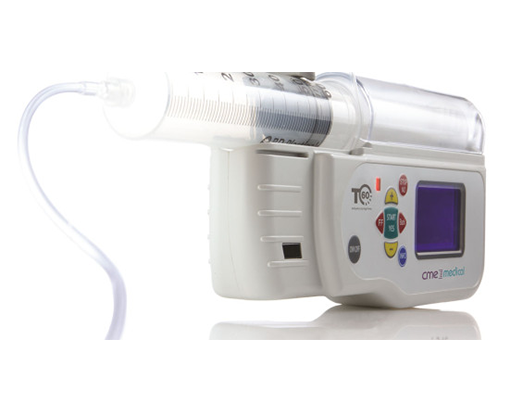 Request a Quote
General
The T60™ Syringe pump is a market leading Ambulatory Syringe Driven infusion pump solution for small therapy treatment for use within Ambulatory and Homecare environments.
The portable, robust and lightweight pump provides a user-friendly solution to complex therapies with an outstanding safety concept required for both infusion therapy and patient safety during treatment.
Advantages
Lightweight and Compact
Three point syringe detection feature, each with displacement alarm
Code protected clinician bolus function
Volume detection and automatic calculation of infusion rate in ml/hr
  Safety Concept
Current Infusion history can be viewed during infusion
Lockable keypad to prevent inadvertent key presses
Configurable occlusion pressures for different clinical applications or therapy
Comprehensive range of alerts/alarms
The T60™ Syringe pump system includes dedicated administration sets for a wide range of therapies and treatments along with accompanying pump accessories.
Please contact MESM for further details how we can support your clinical trial requirements.
| | |
| --- | --- |
| Type of Unit | Ambulatory Syringe Driven |
| Dimensions | 38 x 55 x 190mm |
| Weight | 400g |
| Syringe sizes | 2 ml to 60 ml |
| Flow rate | 0.1 to 100ml/h in 0.1ml increments, 100 to 650ml/h in 1 ml increments |
| Pump accuracy | ± 2 % |
| Alarms and Alerts | When a problem is detected, the T60 displays the following alarms: Pump Unattended/pump paused to long – Occlusion/Empty Syringe – Program nearly completed (alert) – End of Infusion – Low Battery (alert)- End Battery – System Error – Syringe Displaced |
| Air Pressure | 48kPa to 110kPa |
| Battery | Integral rechargeable li-polymer 1800 mAh |