Sapphire Ambulatory Pump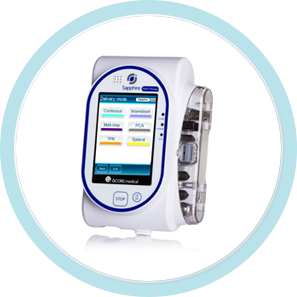 Request a Quote
General
The Sapphire Ambulatory pump is a versatile and simply designed pump solution to configure customized small therapy treatment for use within Ambulatory and Homecare/Hospice environments.
The portable, robust and lightweight pump provides a user-friendly solution to complex therapies with an outstanding safety concept required for both infusion therapy and patient safety during treatment.
 Advantages
Intuitive, easy to use touch screen design
Configurable modes of operation which can be set according to trial requirements
Engineered to provide consistent accuracy
Tailored for home care: quiet operation and ergonomic design is ideal for use in home care and hospice environments
 Performance Data
Automatic rate calculation by calculating volume over time
Dose Rate Mode
Automatic calculation of delivery rate based on the entry of drug concentration in conjunction with the desired dose rate (e.g. mg/kg/min)
 Safety Concept
Large, colour touch screen: simple to read and makes setup, programming and troubleshooting easy for patients and caregivers
Rugged, durable construction for home care infusion needs
Lockable keypad to prevent inadvertent key presses
LED alarm indicator with clear alarm message in display
The Sapphire Ambulatory pump system includes dedicated and comprehensive range of administration sets for a wide range of therapies and treatments along with accompanying pump accessories.
Please contact MESM for further details how we can support your clinical trial requirements.
| | |
| --- | --- |
| Type of Unit | Ambulatory Volumetric Pump |
| Dimensions | 14.3 x 9.6 x 4.9 mm |
| Weight | 504g |
| Display resolution (W/H) | 240x320 pixels |
| Infusion Modes | Continuous Intermittent |
| Flow rate range | 0.1 – 999 ml/h |
| Accuracy | +2.5% |
| Pump alarms | Air-in-line Occlusion Flow Error Low Battery Cassette Misplaced |
| Voltage | 110 – 240V AC, 50/60 Hz |
| Battery | Rechargeable Li-ion Battery 7.4V 1960 mA/h |