BP TRU Blood Pressure Monitor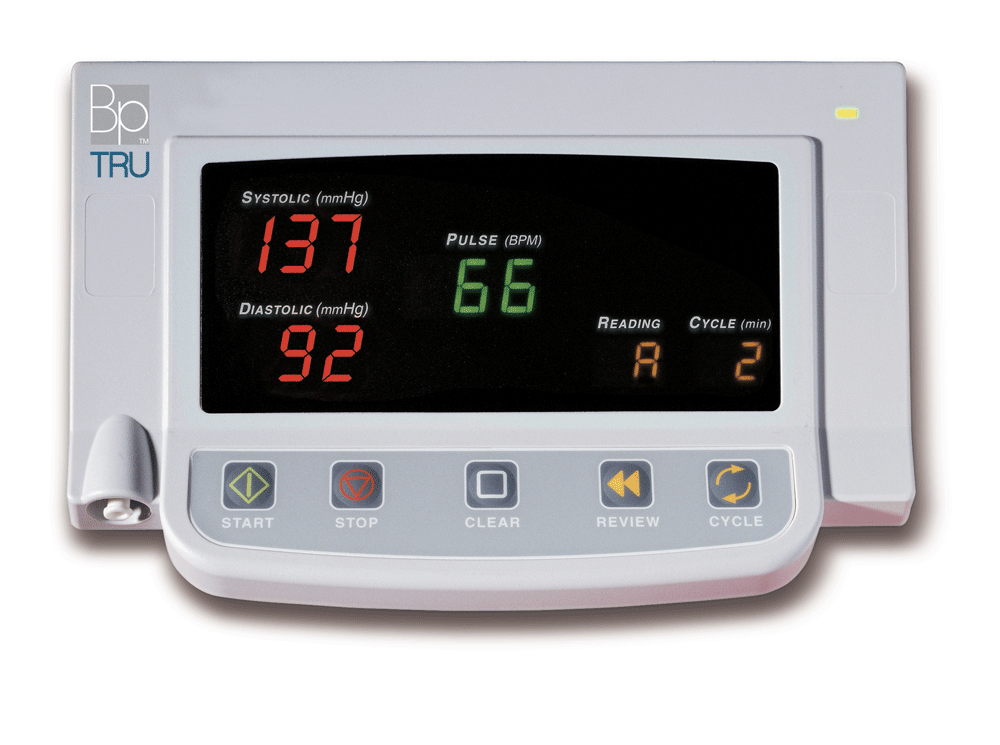 Request a Quote
General
The BpTRU starts with the touch of a single button. A large, easy to read panel displays patient heart rate (and optionally temperature) in addition to systolic and diastolic blood pressure readings. It's ease of use saves time, as the operator is not required to be present. This allows staff to perform other duties, improving patient flow and clincial management.
The BpTRU's patented first reading discard and averaging of 5 readings has been shown to minimise white coat response and provide readings which accurately represent the patient's true BP status.
BpTRU offers a range of models to suit your clinical needs. All units include three latex-free cuffs (adult small, regular and large). Child and extra large are available.
BPM-100
Wall mountable
AC power supply
BPM-200
Table-top use
Wall or roll stand mountable
USB port
Rechargeable battery
Universal power supply
BPM-300
Offers the same features as the BPM-200 plus:
Temperature measurement
Choice of an Oral/Axillary or rectal probe
| | |
| --- | --- |
| Pressure Measurement Accuracy | Within 3 mmHg or 2% (Meets or exceeds ANSI/AAMI SP10:1992) |
| Pressure Measurement Range | 0 to 290 mmHg |
| Pulse Rate Measurement Range | 40 to 200 beats per minute |
| Diastolic BP Measurement Range | 40 to 160 mmHg |
| Systolic BP Measurement Range | 60 to 250 mmHg |
| Maximum Operating Cuff Pressure | 290 mmHg |
| Maximum Possible Cuff Inflation Time | Over 10 mmHg for 3 minutes |
| Maximum Possible Cuff Pressure | 330 mmHg |
| Monitor Dimensions | 9 x 4 x 5.5 in (23 x 10 x 14 cm) WxDxH |
| Arm Circumference for Small Cuff | 7 to 10.25 in (18 to 26 cm) |
| Small Cuff Size | 6.75 x 3.5 in (17 x 9 cm) LxW |
| Arm Circumference for Regular Cuff | 10.25 to 13.5 in (26 to 34 cm) |
| Regular Cuff Size | 9 x 4.75 in (23 x 12 cm) LxW |
| Arm Circumference for Large Cuff | 12.5 to 17 in (32 cm to 43 cm) |
| Large Cuff Size | 13 x 6 in (33 x 15.2 cm) LxW |
| Device Lifetime | 10,000 full scale NIBP cycles of 0 to 290 mmHg and back |
| Power | 110/220V AC Adapter (included) |
| Weight | 3.5 lbs (1.56kg) (including power source, 3 cuffs and tubing) |